A DIY Facial Steam for Every Skin Type
Steam has long been recognized as key to helping increase circulation, soften skin, open pores, and allow better penetration of various serums and moisturizers. As an esthetician, I find that steam is essential in every facial I perform for my clients.
Steam not only prepares the skin, but it is a crucial step during the facial. I'll give you a little trick of the trade—you don't have to visit your local spa to enjoy the benefits of a good facial steam. In fact, you can do your own mini steam at home using just a few common kitchen items.
Facial Steam Recipes for Every Skin Type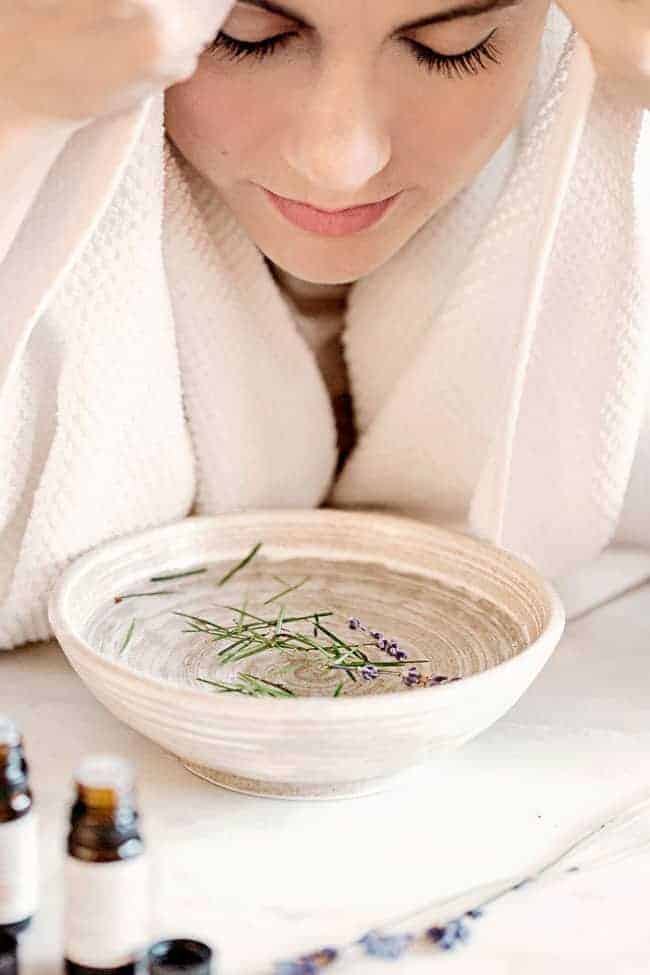 Just be sure you start with freshly washed skin; I would recommend a 2-step cleanse. That can include an oil cleanse followed by a gel or foam cleanse or two cleanses with the same facial cleanser.
Be sure you don't steam for more than 10 minutes as over steaming can have the opposite effect on your skin! You'll need a pot of boiling water, a heat-safe bowl (ceramic or glass), and a towel that is large enough to cover your shoulders, head, and the bowl. Don't forget to set a timer on your phone before you get under the towel!
Facial steaming may also have the added benefit of clearing out sinuses and relieving pressure in some people, so you can soothe your sinuses and breathe deeper [source].
How to do a facial steam
1. Bring 4 cups of water to a boil.
2. Transfer to a heat-safe bowl and place on a flat countertop.
3. Add steam ingredients (below)
4. Immediately drape a towel over your face, shoulders, and the bowl, keeping your face about 10–18 inches from the steam source.
5. Enjoy 5–10 minutes of steam and then follow with a mask, serum, or moisturizer while your skin is still damp.
Your steam can be kicked up a notch by choosing the essential oil or herb combination from below that fits your skin type:
1. Rosemary & chamomile steam for mature/aging skin:
After bringing a pot of water to a boil, add:
Following up with a sheet mask containing calming, hydrating ingredients is perfect for more mature skin. On just-steamed skin, the mask's ingredients will absorb better for hyper-hydrated, radiant-looking skin.
2. Tea tree & basil steam for oily/acne-prone skin: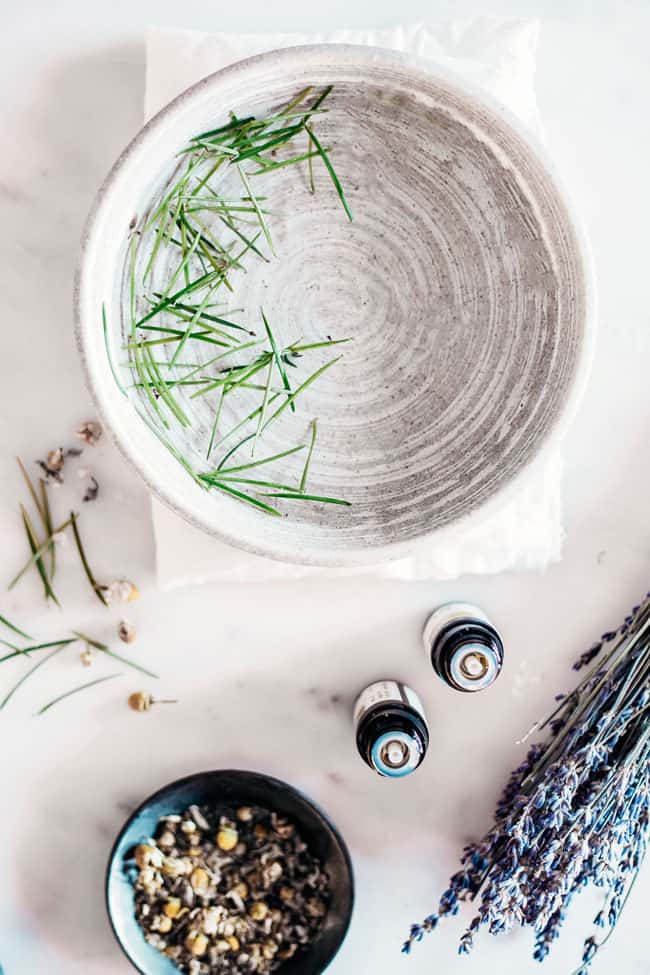 After bringing a pot of water to a boil, add:
For acne-prone skin, following up with a clay mask is ideal. The steam will have softened any congestion, making it easier for the mask to help detox and clean out your pores.
3. Geranium & lavender steam for normal/combination skin:
After bringing a pot of water to a boil, add:
A rosewater spray is a great way to follow up facial steaming. It will feel cooling on the skin, helping the pores to constrict again for flawless-looking skin.
4. Chamomile & tea tree for dry skin:
Soothe irritated skin with a chamomile steam. The healing tea calms skin irritation and reduces redness. Pair it with tea tree to kill bacteria on the skin's surface.
After bringing a pot of water to a boil, add:
Follow your steam with a hydrating face mask to lock in moisture.
5. Black tea & eucalyptus for puffy skin:
Try a black tea steam if you're battling congested, puffy skin.The caffeine boosts circulation to reduce swelling and activate lymphatic drainage. Add eucalyptus oil to help open up clogged airways.
After bringing a pot of water to a boil, add:
Follow your steam with a few minutes of face massage using a jade roller or a gua sha tool to tone skin and help release built up fluids. If your eyes are still puffy, place the (cooled) black tea bags in the freezer for 10 minutes, then place over your eyes for 5 minutes. Follow with coffee-infused eye cream.
6. Matcha & rosemary for glowing skin:
Try matcha when dull skin is hiding your glow. The chlorophyll helps pull out impurities from deep within your pores while rosemary boosts circulation for a rosy complexion.
After bringing a pot of water to a boil, add:
Boost your radiance post-steam with this antioxidant-rich matcha face mask. With honey and cinnamon, it's a wonderful skin rejuvenator.
When not to steam
While steaming is a great way to maintain healthy, glowing skin, there are some cases where you should hold off—at least for a little while. Facial steaming isn't appropriate for your skin if you have extremely sensitive skin, a sunburn, or a large amount of broken skin. In cases like this, it's best to wait until your skin is back to normal, so you can really get the most out of facial steaming.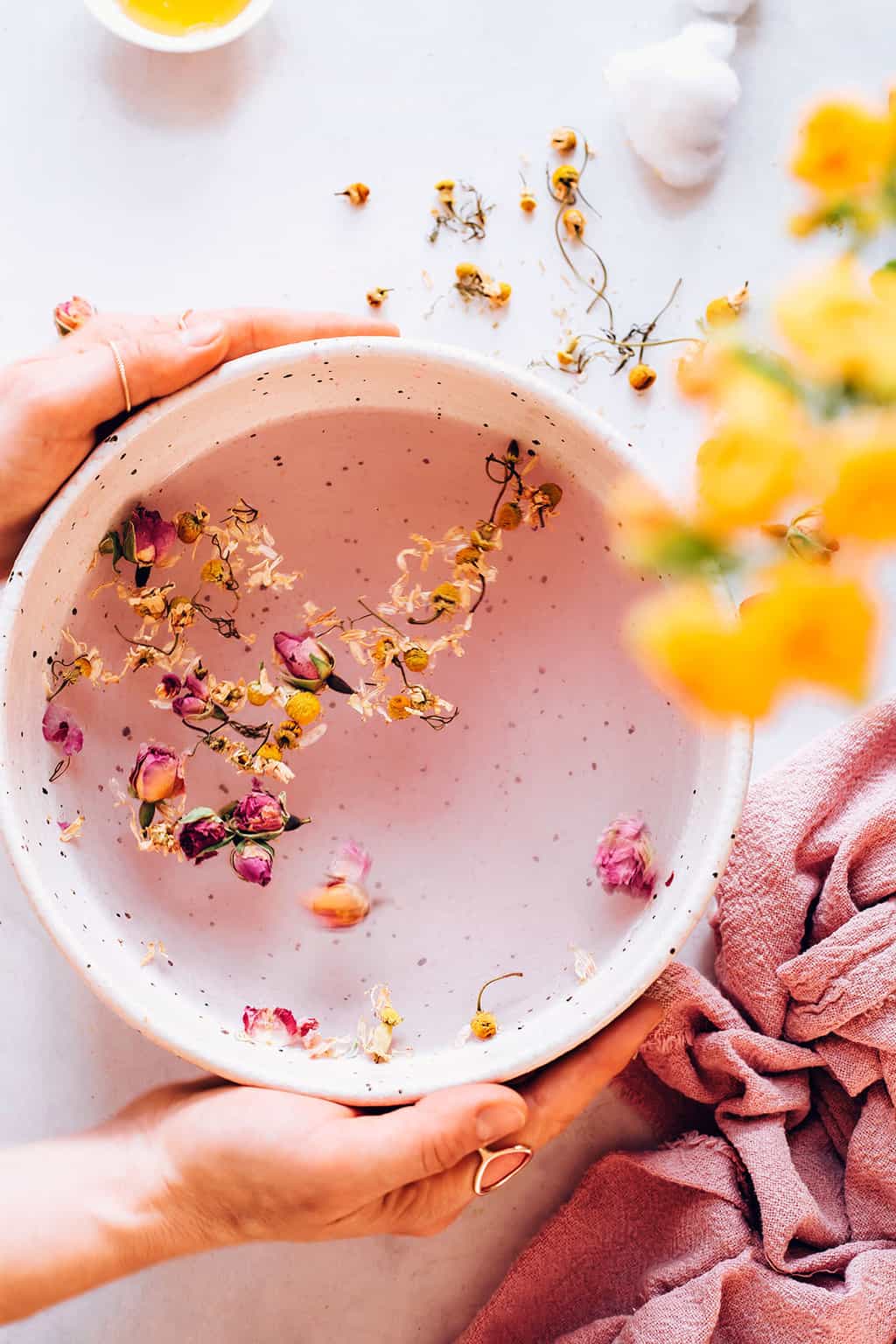 Oxygen facials have been the rage for quite some time, but this at-home oxygen-rich facial is a great option if you don't want to break the bank.
If you'd like to try a multi-step at-home facial that doesn't just include steam but also a scrub, mask, and moisturizer as well, this 4-step facial is just the right combination.
If you are new to at-home facials, scrubs are a perfect place to start. Simple and ideal for all skin types, this Rose and Chamomile Scrub is the perfect companion to an at-home steam.
Have you ever tried a facial steam? Do you have any combinations you would love to share?
This post was medically reviewed by Dr. Jennifer Haley, a board-certified dermatologist with extensive experience in medical, cosmetic, and surgical dermatology. Learn more about Hello Glow's medical reviewers here. As always, this is not personal medical advice, and we recommend that you talk with your doctor.
Share on Facebook